Post by Yu'Karaya on Mar 31, 2009 20:07:12 GMT -5
Name: Kiyoshi Yuvia
Gender: Male
Personality: Shy, timid, sad, depressed, distant, quiet. He doesn't take any value in his own life, and has no reason to truly live, Nobody special to him (Except for Ame) , etc.
Apearance: Looks 15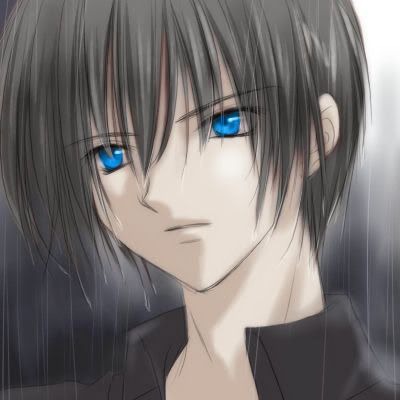 Zanpaktou spirit: Ame.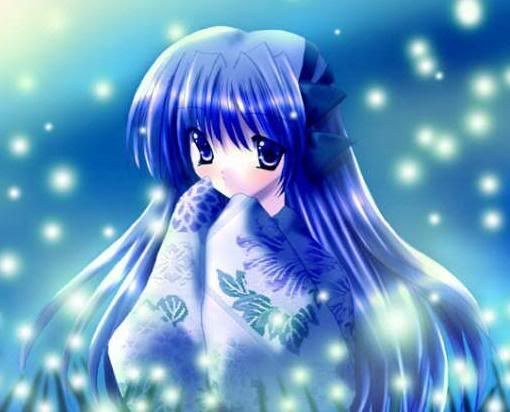 Ame is the Spirit of Kiyoshi's Zanpaktou. She resembles a little girl with blue hair. She is kind and gentle and cares deeply for Kiyoshi, acting as his gurdian without him knowing. She is able to change her age appearance at will, but usually takes the form of a child. Her zanpaktou spirit world resembles an empty late 19th century street in london,during a heavy rain storm at dusk.
Sealed Zanpaktou: 4ft 7in katana with a gray handle. Basic katana.
Shikai appearance: Nothing changes except the handle becomes a deep shade of purple. and a blue ribbon is wrapped around the hilt just below the gaurd. Glows faintly when it rains.
Shikai abilities: Can manipulate water, even molecules in the atmosphere. Power increases when it rains. If the user is powerful enough, the sword may summon its own rain, summoning a rain storm
Amekaze no Nagare (Flowing Rain Style): Kiyoshi uses his signature flowing kenjutsu style where attacks flow into one another in a rythmic circular pattern. While fighting in this style, Kiyoshi releases sharpened blasts of water strengthened by reiatsu from the tip of his blade.
Iyashi no Ame (Healing Rain) - Kiyoshi's Zanpaktou turns to water and surrounds his hands. With this technique, Kiyoshi can treat wounds, burns, etc.
Kondensu (Condense) - draws upon water in the air to condense into a mass in the target area. Primarily used as a sheilding technique. He can combine his reiatsu with the water to make it denser.
Ame No Hari (Raining Needles)- Creates small 3 inch needles out of water and condenses them to be extremely sharp. Creates up to hundreds of them and shoots them at the foe. Can penetrate steel but have no impact abilities. He can use already falling rain for this ability.
Release Phrase: anata no namida o nagasu (Shed your tears)
Bankai appearance: unknown
Bankai abilities: unknown
History: For as long as he could remember Kiyoshi has been an orphan within the soul society. Others ignored him an saw him as just another street urchin. Living without purpose, he did nothing but exist, and he saw himself as nothing but a waste of life. One day, when he was standing in a ally during a rainstorm, Kiyoshi heard the sound of a little girl crying. He ran torwards the sound of the girl, the rain so thick that he could barely see in front of him. When he got to a deep part of the ally, he found a sword resting in a puddle of water. The sound of the crying girl faded away. Kiyoshi lifted the blade and held it in front of him. He thought it looked beautiful, despite the fact it was dirty and dull. He felt a presence and turned around to find a little girl staring back at him. Her eyes were blue like his and seemed to be filled with sorrow. Before he could react, the girl smiled at him and faintly said "Thank you". and then she faded away. Kiyoshi stood in disbelief, not sure whether to belief his eyes or not. He looked back at the sword he was holding. It was no longer dull and dirty, it was shining faintly in the rain. Kiyoshi looked around and found the scabbard for the katana lying close by. He sheathed his sword and held it tightly in an embrace. "The first thing that mattered to me" he thought.
RPG ex. : Kiyoshi sat near the entrance of the alleyway wear he had first found the blessed blade he now held in a hug like embrace. He had waited there everyday, hoping to see the girl once more. He looked up at the sky longingly, hoping that it would rain soon. As few minutes passed by, they seemed like ages. A man in a black robe approached Kiyoshi. Kiyoshi recognized the robes of a Shinigami. "Where'd did you get that sword?" he asked. Kiyoshi stared blankly into the mans eyes. Instead of the rage he expected, Kiyoshi only saw kindness in the man's eyes. "I.....found it." kiyoshi replied quietly, embracing his sword tighter, afraid that the man may try to take it. "I see" the man said. "May I simply hold it?" he asked. Kiyoshi didn't respond. "I promise that I will not take it." the man said smiling. Kiyoshi presented the sword to the man, and the man picked it up. after holding it for a second, the sword began to melt into water, and dripped onto the ground. Kiyoshi gasped in despair. He cupped his hands in order to catch as much of the water as possible. But as soon as the water collected into his hands, it changed shape to resemble a blade once more, and solidified. "Huh?" the man staed blankly. Kiyoshi did not notice the man looks of confusion, he was to busy hugging his sword tightly, releived that he did not lose it. "It would seem that this zanpaktou has chosen you" the man said after a few moments. "Come with me to the Shinigami academy. There you can receive your training as a shinigami. You can live a better life now" The man said smiling, his hand extented torwards Kiyoshi. Kiyoshi hesitantly took the man's hand and was lifted onto his feet. Kiyoshi followed the man through the crowded street, looking back torwards the alley hoping to see the little girl, one last time.